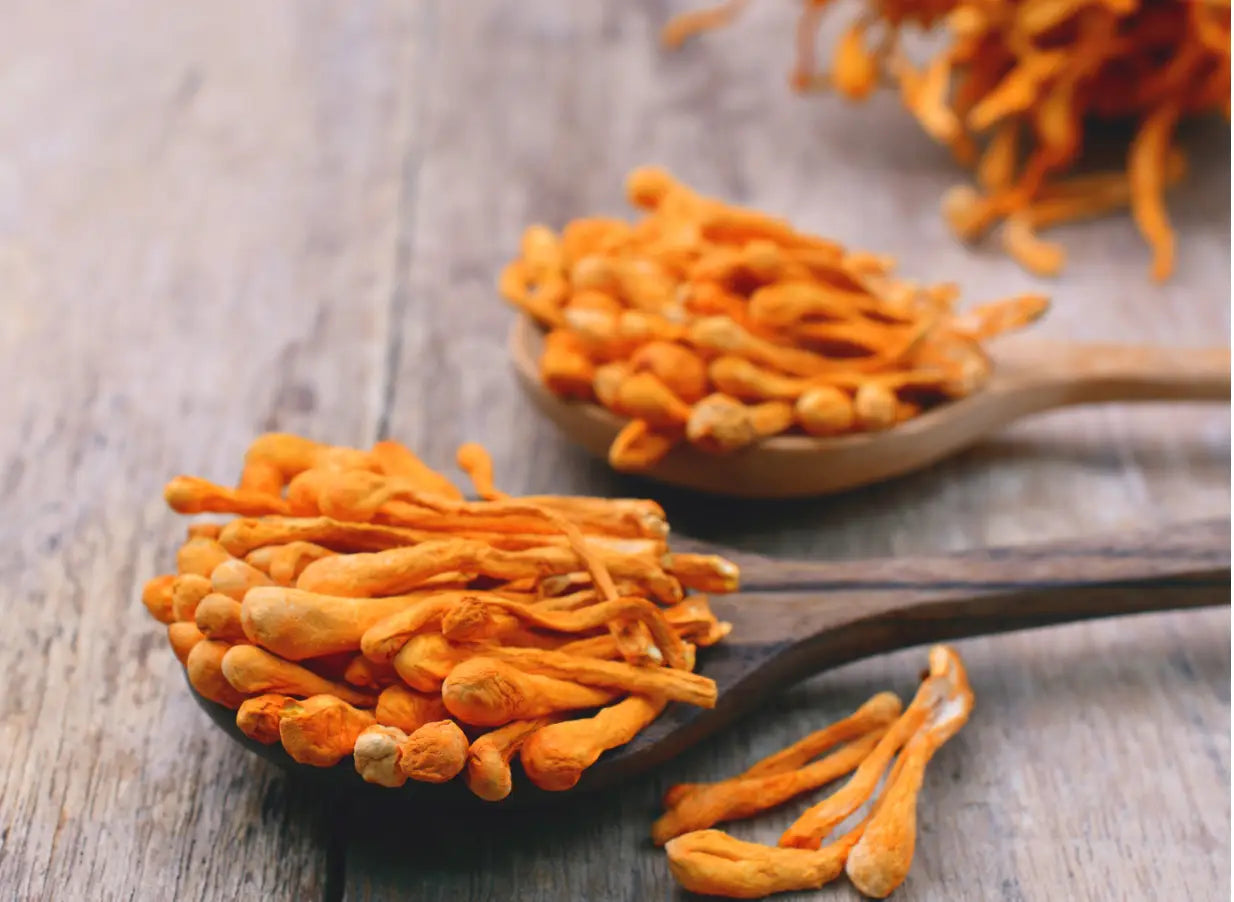 Posted on
---
Cordyceps (keeda jadi) is a fungi, similar to horsetail. It is lives in alpine grass and shrub lands on the Tibetan plateau and the Himalayas at an altitude between 3000 to 5000 meters. It's name literally means "summer plant and winter insect" in Tibet.
Cordyceps has been used in traditional medicines systems for thousands of years in China, Korea, Taiwan, Vietnam, Thailand and is thought to provide an array of therapeutic benefits which support good health. Cordyceps species contains a broad range of compounds which are considered nutritional.
Cordyceps species contains all of the essential 18 amino acids, vitamins E, K, B1, B2 and B12, polysaccharides, protein, sterols, nucleosides, macro and microelements(K, Na, Ca, Mg, Fe, Cu, Mn, Zn, Pi, Se, Al, Si, Ni, Sr, Ti, Cr, Ga, V and Zr).
The main active ingredients of Cordyceps militaris are: cordycepin, cordycepic acid (d-mannitol), sterols(sitosterol,ergosterol) as important vitamin D sources, nucleosides (adenosine, uracil and adenine), polysaccharides, and SOD (superoxide dismutase – a biologically active protein, is an important key enzyme).
BENEFITS-A COMPREHENSIVE FITNESS MANTRA FOR ALL
Cordyceps militaris immensely helps in health improvement, especially athletes and sports people.
Olympians in China have especially experienced its benefits. It helps control liver and kidney health, adrenal health, brain health, hormonal health, respiratory ailments, diabetics & blood sugar. Cordyceps is often prescribed for the ederly to ease general aches and pains. It increases stamina and works as an antifatigue supplement. Cordyceps increases the immune response of red blood cells, reduces inflammation, reduce circulating cholesterol and improves the activity of white blood cells. It has been shown to reduce fatigue and stress. It increases oxygen in the body, which is very different from a stimulant.
It has traditionally been used to strengthen the kidneys and lungs, and help reduce phlegm, while also restoring their function. It also increases testosterone secretion and improves libido.
Quick links
Contact
Soumya Foods Pvt Ltd
Mothrowala, Dehradun, Uttrakhand, India PIN-248001 
+918094600131, 0135-2533181 
info@keedajadihealth.com