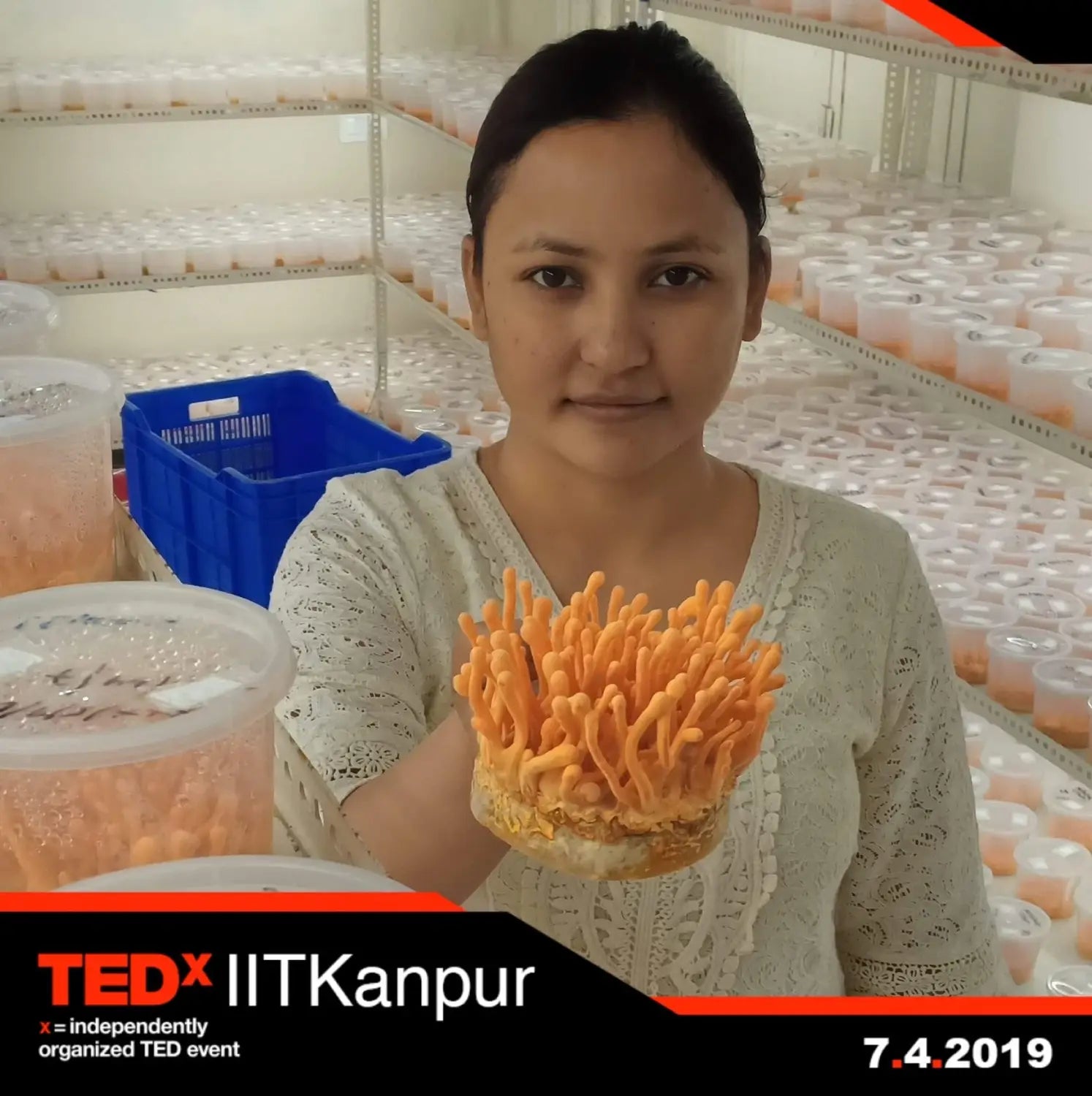 Posted on
---
The Magic of Keedajadi cordyceps militaris : Nature's Gift for Vitality and Balance
Welcome to the first blog post in our series on Keedajadi, also known as cordyceps militaris where we embark on a transformative journey to explore the remarkable power of this mystical mushroom and its profound impact on holistic wellness. As the Mushroom Lady, I am excited to share with you the secrets of Keedajadi, a natural gift from nature that restores vitality and balance to our lives. Join me as we uncover the enchanting qualities of Keedajadi and its potential to enhance our overall well-being.
The Enigmatic Keedajadi: Keedajadi, scientifically known as Cordyceps Militaris, is a mystical mushroom that has been revered in traditional medicine for centuries. Thriving in the high-altitude regions of Tibet and the Himalayas, it embodies the wisdom of nature's healing power. Keedajadi undergoes a unique growth cycle, where it symbiotically fuses with a caterpillar host, resulting in a mushroom of unparalleled potency.
Restoring Vitality: One of the most captivating aspects of Keedajadi is its ability to restore vitality and balance within our bodies. As an adaptogen, it helps us adapt to the physical, mental, and emotional stresses we encounter in our lives. By supporting our body's innate resilience, Keedajadi promotes overall well-being and empowers us to face life's challenges with renewed strength.
Enhancing Energy Levels: Keedajadi holds the key to enhancing our energy levels, offering a natural and sustainable boost to combat fatigue and improve stamina. By optimizing cellular energy production, it revitalizes both our physical and mental faculties, enabling us to lead active and fulfilling lives.
Promoting Inner Balance: In the midst of our fast-paced lifestyles, achieving inner balance is essential for holistic wellness. Keedajadi acts as a harmonizing force, restoring equilibrium within our bodies and minds. By nourishing our body's stress response system, it helps reduce the impact of daily stressors and fosters emotional well-being.
Supporting Immune Health: A robust immune system forms the foundation of a healthy life. Keedajadi contains bioactive compounds that have been scientifically shown to support and strengthen our immune function. By bolstering our body's natural defense mechanisms, Keedajadi helps protect us against external threats and promotes optimal immune health.
Conclusion: As we conclude this first blog post in our series, we have merely scratched the surface of the magical qualities of Keedajadi. Its ability to restore vitality, enhance energy levels, promote inner balance, and support immune health truly makes it a precious gift from nature. Stay tuned for our upcoming posts, where we will delve deeper into the specific benefits and applications of Keedajadi. Join me, Divya Rawat, the Mushroom Lady, on this enlightening journey to unlock the full potential of Keedajadi for holistic wellness. Together, let us embrace the magic of Keedajadi and embark on a path of vibrant health and balance.
References:
Please note that the references provided are for informational purposes and further reading.
Quick links
Contact
Soumya Foods Pvt Ltd
Mothrowala, Dehradun, Uttrakhand, India PIN-248001 
+918094600131, 0135-2533181 
info@keedajadihealth.com