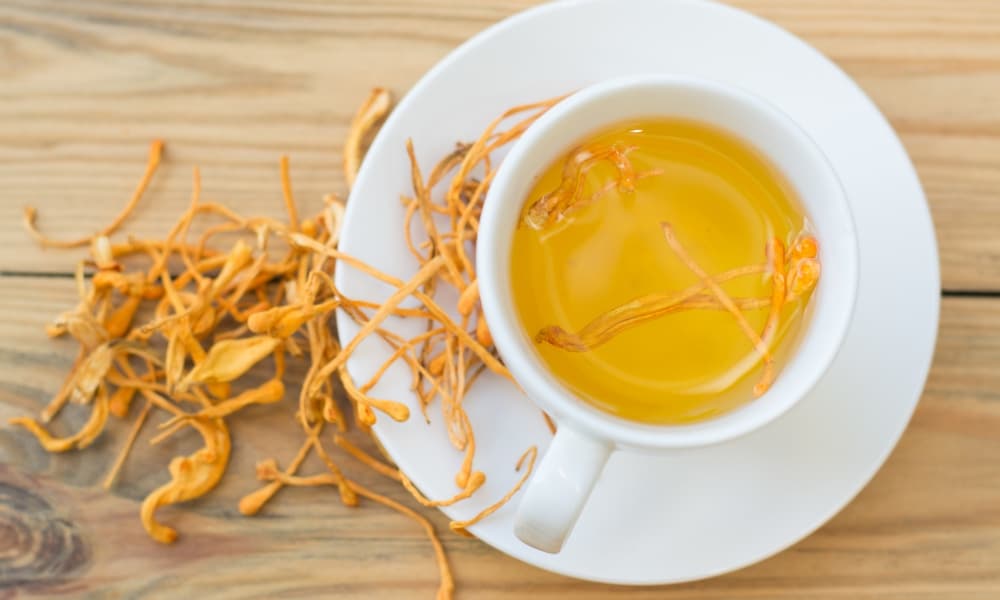 Posted on
---
Discover the Extraordinary Benefits of Cordyceps Militaris: The Ultimate Super Food
Cordyceps militaris, also known as "keeda jadi," is a remarkable fungus that offers a wide range of benefits. Whether you seek to enhance strength, elevate energy levels, or address conditions like ME/CFS, cordyceps militaris can be a valuable ally. Let's delve into the key benefits of this extraordinary fungus:
Benefits of Cordyceps Militaris Mushrooms:
Antioxidant Powerhouse: Cordyceps militaris mushrooms are rich in antioxidants, which safeguard cells from damage and promote overall well-being. These mushrooms have shown potential in managing conditions such as anxiety, depression, and stress.
Therapeutic Potential: Cordyceps militaris mushrooms possess properties that aid in relieving pain, reducing inflammation, and alleviating fever. They have been studied extensively for their potential in treating cancer, diabetes, and various other diseases. Notably, cordyceps has demonstrated the ability to shrink tumor size in cancer patients.
Heart Health and Disease Prevention: Cordyceps militaris mushrooms contribute to preventing heart disease, stroke, and other illnesses by improving blood circulation and reducing inflammation. Their potent antioxidant content aids in detoxification, cell protection, and repair, making them an excellent anti-aging supplement. Additionally, consumption of cordyceps promotes the release of dopamine in the brain, fostering motivation, happiness, and stress reduction.
Benefits of Cordyceps Militaris Mushrooms for Prevention:
Respiratory Well-being: Unveil the beauty of a vibrant circulatory and respiratory system, nurturing the flow of life-sustaining oxygen in your bloodstream and embracing the health of your precious lungs. This magnificent Keedajadi cordyceps militaris mushroom extends its benefits not only to those with respiratory ailments but also to those blessed with healthy lungs, amplifying their respiration for enhanced athletic prowess.
Cardiovascular Health: Embrace the natural beauty of Keedajadi cordyceps militaris as it gently reduces high levels of cholesterol and triglycerides caused by saturated fats in our diets. In doing so, it safeguards our blood vessels from blockages by boosting the levels of beneficial HDL cholesterol.
Benefits of Cordyceps Militaris Mushrooms for Mental Clarity and Mood:
Nootropic Properties: Discover the wonders of Keedajadi cordyceps militaris, a magnificent medicinal mushroom that nurtures your brain and enhances cognition. This remarkable gift from nature acts as a powerful nootropic, boosting the release of dopamine in the brain.
Blood Sugar Management: Experience the harmonious embrace of Keedajadi cordyceps militaris as it aids in managing blood sugar levels in Type 2 diabetes. It enhances the body's response to regulate blood sugar, improving insulin sensitivity.
Anti-Cancer Potential:
Cancer-Fighting Compound: Embrace the extraordinary power of cordycepin, which not only influences signaling pathways involved in tumor growth and spread but also inhibits tumor growth through various mechanisms. This remarkable compound in Keedajadi cordyceps militaris promotes tumor cell death, halts abnormal cell division, and targets cancer stem cells, offering hope in the fight against cancer.
Meditation and Breath Control:
Support for Meditation: In the realm of meditation, the breath assumes a vital role. Within this sacred practice, the serene influence of Keedajadi cordyceps militaris gracefully soothes the mind during prolonged exhalation. It shields against the perils of oxygen deprivation and gently calms the mind amidst stress-laden or oxygen-deficient moments.
Respiratory Support: Keedajadi serves as an invaluable companion during meditation, while also providing robust support for vigorous asana and Pranayama endeavors. By unburdening the airways and caressing the constricted tracheal muscles, Keedajadi liberates the flow of air deep into the lungs, orchestrating a symphony of relaxation and respite.
References:
Quick links
Contact
Soumya Foods Pvt Ltd
Mothrowala, Dehradun, Uttrakhand, India PIN-248001 
+918094600131, 0135-2533181 
info@keedajadihealth.com